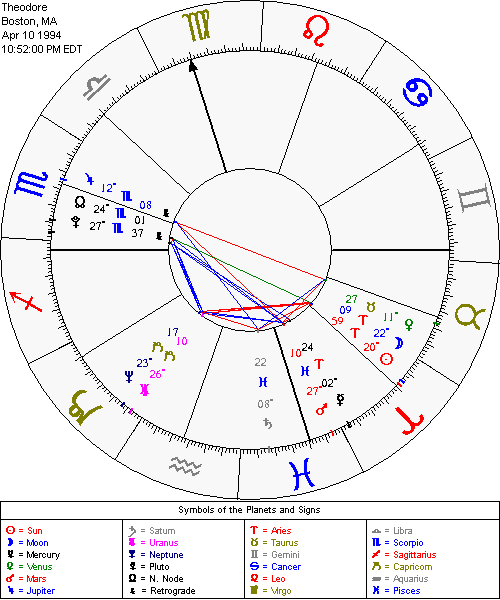 Rising Sign is in 02 Degrees Sagittarius
You are known for being open, frank, outgoing and honest. At times, though, you are also blunt and quite indiscreet. Others have to learn not to take everything you say personally, because you usually do not mean any harm. You appreciate living your life in a straightforward and simple manner -- you dislike social niceties and consider them to be hindrances to real communication. You have lots and lots of energy and tend to become quite restless if you feel confined. You demand the freedom to do as you choose -- you must be self- directed or you feel trapped and anxious. With your abundant energy, you enjoy being outdoors, and you should be attracted to physical exercise or to those forms of sport which can help you burn off some of that excess energy. Very gregarious, you love to socialize -- your innate enthusiasm livens up any gathering.


Sun is in 20 Degrees Aries.
By nature, you are very energetic and high-spirited. You are fiercely independent -- you must be first in everything you do, and you enjoy taking risks. You are the one who will rush in where angels fear to tread. Quite brilliant at initiating new projects, you are terrible at following them through to completion. You are an enthusiastic leader but you tend to be a reluctant follower. Often you are quick to anger, but you usually recover just as fast, regretting later things you said when you were upset. One of your best traits is that you are simple and direct, blunt and honest -- just be careful you do not hurt others' feelings. Your need to be competitive at all costs may provoke resistance from others, but, as long as you maintain your usual Sunny good humor, this should not prove to be a major problem for you.


Moon is in 22 Degrees Aries.
High-spirited and courageous, you are a fighter when your emotions are aroused. The degree of force and drive that you can bring to any effort sometimes surprises others. You have hair-trigger reactions to specific stimuli and tend to "let it all hang out." You sometimes act before you think and do things on the spur of the moment, and that sometimes gets you into trouble. Your moods change quickly -- you have quite a temper, but you don't hold grudges. Very independent, with an extremely strong and forceful personality, you are known for being impulsive, careless, reckless, foolhardy, rash and daring.


Mercury is in 02 Degrees Aries.
Very quick-witted, you are known for being an independent thinker. You love to debate and argue, and are excellent at repartee and battles of wits. At times, however, you act too fast on hastily formed opinions and thus waste a lot of energy defending your rash and sometimes incorrect conclusions. It is perfectly acceptable for you to defend your beliefs with your usual vigor, but try not to take the opinions of others as personal insults.


Venus is in 11 Degrees Taurus.
You are known to be a warm and affectionate person, and you tend to form long- lasting attachments. The reverse of this is that you can also be quite possessive once you have made a commitment. The beauty, luxury and comfort of your surroundings are important to you and you will devote much time and energy to making your home just right. Beware of your tendency toward self-indulgence, especially with respect to eating incorrectly. You also need outside stimuli to get you in gear When things come too easily for you, you can be lazy and indolent.


Mars is in 27 Degrees Pisces.
Very sensitive and vulnerable, it is difficult for you to assert yourself. At times, you feel quite tired and you will require a lot of sleep in order to maintain your health and your strength. You are at your best when you act without your ego being important. You can be very unselfish and considerate of the needs of others. You get the most satisfaction by giving to others when you expect nothing in return. Beware of a tendency to want always to work behind the scenes or to become overly deceptive by doing things behind others' backs.


Jupiter is in 12 Degrees Scorpio.
You love to dig deep beneath surface appearances in order to find out what is really happening. A persistent researcher, you are very interested in the psychology of any situation. You tend to become overwhelmed by the complexity of what you uncover, however, and that makes you a bit gun-shy about explaining things to others. But you must learn to try to communicate as best you can because what you know is really very valuable to others.


Saturn is in 08 Degrees Pisces.
Your tendency to think that your life is out of control is based on an unreasonable fear, probably connected with an unfortunate experience with the person who filled the father figure role in your early life. Learn to take responsibility here and now for your own life. Try to stop having unrealistic expectations about guide figures. Remember that they are merely human, with all the same faults and self-doubts that you have. When you get confused or uncertain, try to simplify your lifestyle -- things will then become easier to bear.


Uranus is in 26 Degrees Capricorn.
You, and your peer group as well, seek out practical solutions to a changing society's attitudes to customs, traditions and authority structures. Your logical and orderly manner of dealing with these matters will result in permanent and carefully planned, but sweeping, reforms.


Neptune is in 23 Degrees Capricorn.
You, and your entire generation, will idealize work, practicality and the ability to attain reasonable goals. But, because you will also stress the need to be selfless and giving, you may find it difficult to attain your goals unless you have lowered your expectations on all fronts.


Pluto is in 27 Degrees Scorpio.
For your entire generation, this is a period of intense research and discovery in areas that were heretofore considered mysterious, remote or taboo. The root causes for many complex occurrences will be unearthed due to the intensity and thoroughness of the search.


N. Node is in 24 Degrees Scorpio.
You have a special aptitude for working by yourself, or with a like-minded group of dedicated individuals. Once you've committed yourself to a person or group or project, your loyalty and devotion are total until the group's goals have been realized. Not at all gregarious by nature, you're uncomfortable around strangers, greatly preferring to be in known and familiar situations. Others may regard you as shy or eccentric, but those who know you well are aware of the intense loyalty that you have to your friends.